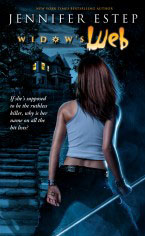 Last year I fell in lurv with Jennifer Estep's Elemental Assassin series about a young woman with elemental powers (she can controls the elements ice and stone) who by day runs a successful BBQ joint and by night, is an assassin. But she only takes out the bad guys.
In Widow's Web, a dangerous elemental, who was also once seriously involved with Gin's lover, has come to town and is bound and determine to kill all who get in her way. Great series and look forward to the next book Deadly Sting which is coming out in March.
I am a sucker for series and once I read the first book in a series will go on to read the rest (if the first one is good) of the series in short order. Discovered new to me author Julie Ann Walker who wrote The Black Knight Series and # 4 will be coming out in April. The Black Knights are a black ops team for the U.S. Government and operate out of what looks like a motorcycle design and repair shop, but that's just their cover. Hell on Wheels introduces Nate "Ghost" Morgan and Ali wheeler; In Rides Trouble # 2 covers Frank Knight and Becky "Rebel" Reichert, and Rev It Up #3 follows Jake "the snake" Sommers and Michele Carter.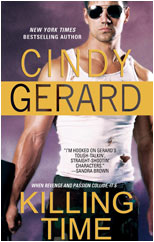 Cindy Gerard, author of The Black Ops series and The Bodyguard series has a new series called the One Eyed Jacks. The first book Killing Time is excellent and features Mike Brown, once a hot shot black hawk helicopter pilot for the military, who retired to Lima Peru, after a mission goes wrong. He's shanghaied by Eve Salinas, the widow of one of the men from the failed mission. She is on a mission of her own to find out the truth of what happened. But someone doesn't want them to talk about it and Mike and Eve are on the run.